Shopping
Payoneer Review
Payoneer is a flexible online payment solution, which not only allows hassle free credit/debit card payments, but also allows transfers directly to and from your bank account. In addition to that you are eligible for a debit card issued by Payoneer, which will be linked to an international bank account.
Usability
The feature-set offered by Payoneer is simplified to the maximum – you have all the features you need at a glance for each one of the accounts you have. You are supposed to setup separate accounts for the different currencies, even though you can still use just one bank account or debit card.
If you have used pretty much any online payment solution, you will start to feel at home with Payoneer within less than 10 minutes. Its really that easy to use!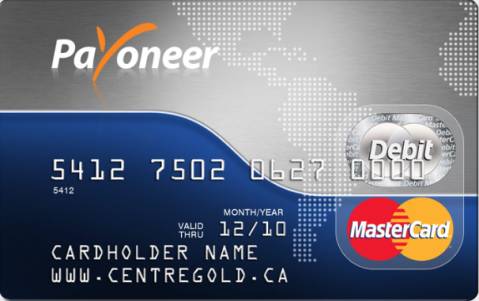 Flexibility
You can easily add or send money to and from your bank account with just few clicks. The limits are much higher than these offered at other payment solutions, like for example PayPal. You can send and withdraw anywhere between 200 and 2000 units of the particular currency per day, which makes it particularly attractive to companies, who generate larger amounts of revenues online.
Sending money between Payoneer accounts is also quite easy and most importantly free of charge, but I will get to this at the next section where I will review the different fees.
The overall flexibility of Payoneer is quite impressive – you can easily transfer funds between accounts, bank accounts or simply request payments to your dedicated Payoneer bank accounts. This comes in handy when dealing with international companies, where currency conversion and exchange rates can cost pretty large percentage of the payment.
Fees
The one thing I really, really enjoy about Payoneer are the low fees. If you are currently working as a freelancer online, you most definitely know what I am talking about. Its possible  to dramatically reduce all your payment fees with the staggering 42%, if you decide to switch to Payoneer.
As already mentioned there are no fees for transferring funds between accounts in the system and the withdrawal fee is lower than that of PayPal. Best of all, Payoneer operates via a surprisingly effective network of international bank accounts, so when you receive your money, it will appear as an internal transfer and will most likely have a low fee or even be 100% free. In addition to that, most of the time you receive the funds directly to your bank account within 24-48 hours. This can be a game-changer for your business, as it will allow you greater flexibility.
Support
Payoneer offers 24/7 professional support via ticketing system, phone and live chat, so you can quickly resolve any issues you have with the system. From my personal experience, resolving issues with support of similar services takes at least 2 days, with PayPal even more and in the end, you get some kind of a default response.
Overall
I had personally used PayPal for more than 5 years now and what I personally dislike are the numerous fees for currency conversion, transfers, withdrawal and pretty much everything. In addition to that in order to link my bank account I need to be US citizen. With Payoneer these are really low, plus I automatically get multiple accounts, which makes everything a lot easier. Plus, there are tons of bonuses available to Payoneer users! Sing-up now and see for yourself! Expect a detailed comparison between Payoneer and PayPal next month on Review Engine.
Overall Score
Summary: Payoneer offers a lot lower fees than any other online payment solution, I've seen so far. Great for freelancers and other online entrepreneurs, who are looking to cut down fees.